Spotfire powers your manufacturing intelligence
To meet growing challenges and stay competitive, manufacturers need to evolve from reactive to proactive—gaining insight into machines, processes, products, and factories. Spotfire provides the manufacturing intelligence necessary for your modern digital factory to thrive—fueling advanced analytics to help reduce costs, improve operations, and increase profitability.
Spotfire manufacturing analytics for the digital factory

Increase product quality

For global value chains, quality management software and statistical process control are not enough. Prevent quality issues before they occur with historical and real-time data combined with the power of AI models. With Spotfire, you can automate root-cause analysis, detect and classify anomalies, react in real time to alerts—all to improve quality and reliability.

Maximize product optimization

Reducing process variability has always been critical for manufacturing but is difficult to do in real time. Reduce variability of your most complex processes with anomaly detection and univariate and multivariate statistical process control. With Spotfire, you can maximize the value of streaming data with real-time, AI-infused process control methodologies.

Eliminate unplanned downtime

Scheduled maintenance for instrumented assets, digital twins, and the IoT can be costly—predictive maintenance is key to maximizing productivity and reducing costs. With Spotfire capabilities like streaming and edge analytics, dynamic learning, and AI/ML algorithms, you can discover important relationships and anomalies in your digital factory. Predict future states before they occur, saving you time and money.

Minimize supply chain disruptions

With the threat of global supply chain disruption, building resiliency is top of mind for many manufacturers. Real-time intelligence allows you to proactively respond to customer and supplier changes. With Spotfire, you can sense and respond to demand instantaneously, monitor supplier performance, and optimize transport and logistics.

Hemlock Semiconductor uses Spotfire manufacturing analytics to optimize outputs and lower costs
$300K savings per month in electricity consumption via analytic-driven asset utilization
With Spotfire analytics, Hemlock Semiconductor can manage energy demand in real time, increase product quality, and detect production anomalies.
Explore Spotfire Manufacturing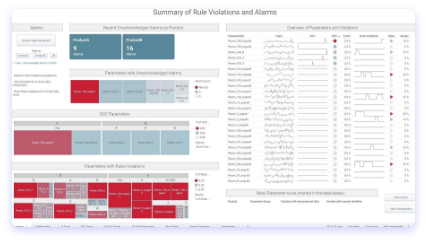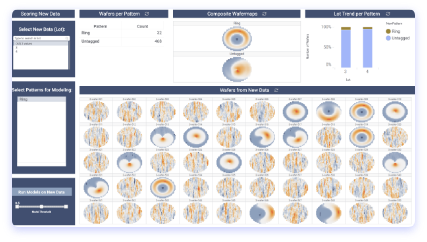 This demo uses classification techniques to identify composite patterns in industrial wafermaps. Additionally, it also offers a means for labeling and then classifying new wafers based on the chosen labels.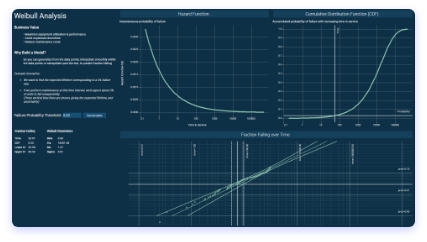 Learn how Spotfire empowers manufacturers around the world



Ready for advanced solutions for manufacturing?