What is hospitality analytics?
The use of data analytics in the hospitality sector and its various operations is called hospitality analytics. Hospitality analytics can help a brand increase customer loyalty, revenue, and market presence with effective recording and analysis of data.
Drawing in new customers and providing service good enough to encourage return patronage is a key challenge faced by the hospitality industry. This challenge is the same for airlines, hotels, restaurants whether they be chain, standalone, QSR, and others. When customers have a variety of choices for where to visit, it becomes harder for a brand to stand out from the rest of the pack. This is when analytics solutions can be quite helpful.
Hospitality analytics can help identify problem areas, predict bottlenecks, and uncover new trends. In doing so, hospitality ventures can create more effective marketing campaigns, and existing customers can be better retained. There are several ways in which hospitality analytics can help the sector.
Benefits of hospitality analytics
Analytics can be applied in many ways in the hospitality industry. Components of hospitality such as business operations, marketing, rate of occupancy, food and beverage sales, and yields across departments can all benefit from data-driven insights. For example, by tracking guest preferences and previous purchases, the concierge of a hotel can make targeted suggestions on local sightseeing, events, or culinary choices that may interest their guests.
Tracking the demand during different seasons can help the reservations department at a hotel arrive at optimal rates for rooms, and ensure the right discounts or their capping, closer to booking dates. Analytics helps sales and marketing teams work on accurate messaging to go out to their dataset to boost reservations. With analytics, hotels can work on optimizing energy usage and saving on costs while ensuring the comfort of guests. These are just a few examples of how analytics can help the hospitality sector.
Improves revenue management
Hoteliers collect data online and through other sources connected to their business for analytics. With an analysis of this information, they can address issues such as:
The possible demand for hotel rooms in any given period
The ideal price to value ratio guests expect
Finding the ideal marketing channel to offer opportunities to customers at competitive prices
Setting parameters to ascertain how a brand fares versus its competitor
The data collected for insights on revenue management can be related to bookings, both current and past, occupancy levels of an establishment, performance statistics of various kinds, and more.
Helps create unique services and experiences
When a hotel collects detailed information derived from sources such as customer feedback forms, it can run analytics on that data about services and experiences at a hotel. Surveys of guest experiences at a hotel are also useful sources and can provide insights into booking patterns. Running analytics on such data can help hotel brands understand the strengths of their hotel and what may be working against them. Such information proves useful in helping a hospitality brand improve its offerings, find newer ways to attract customers, and boost sales.
Enhances marketing efficacy
With the right kind of data analysis, hospitality brands can refine their marketing strategies. By identifying purchase patterns, consumer trends, and preferences when traveling, a brand can create targeted marketing campaigns aimed at different traveler segments. With analytics, a hotel can market activities for various target market groups such as family and friend groups, solo travelers, adrenaline junkies, culinary tourists, and other subgroups. Services like high-speed Wi-Fi can be marketed to digital nomads and other groups matched to what they are specifically looking for. Using data analytics to focus on demographic-specific marketing can helpful to a hospitality brand in the examples listed above and more.
Scope out the competition
For any business to stay ahead of the game, it needs to know what the competition is doing and what it offers that sets it apart. Data analytics helps with this. A hotel can create a comparison of rate charts based on online data of the competition's rates versus that of its brand. This can help arrive at the right discounts or offers. This is just one example of how data collected from the hotel industry can help a business stay ahead of the curve and offer what the competition may have overlooked.
Anticipate and provide peripheral services
Hotels have the ability to collect vast amounts of data from their guests. Collecting relevant data can help with improving not just the services already available for guests, but also anticipating what their needs will be.
For example, if guests who book handicap accessible rooms are surveyed, a hotel is bound to find that they may need more wheelchair-friendly transportation options as well, or perhaps the details of other handicap accessible restaurants and sights across town. A hotel can also figure out what special services they can offer such guests and plug any loopholes in service that may arise. Data analytics can help a hotel set up profitable alliances with a wide range of peripheral services such as restaurants, cab services, and tour operators.
Harness the power of social media platforms
Social media platforms are increasingly becoming an important channel of communication with potential customers. Queries come via social platforms, responses and reviews are sought after since the information comes directly from a brand. Using the data accrued across social media interactions between a brand and a customer can become a valuable dataset. Customers also take to social media with negative reviews, and this can be a means of assessing where a brand is missing the mark and course correct if needed.
Hospitality analytics is increasingly being used by the sector to improve its productivity, the efficiency of departments, and of course the bottom line. As a steady rise in profitability is always a main goal, data analytics helps a business optimize its operations and ensure improvement across the board.
Types of data analytical reports
With effective analytics, a hospitality brand can create intelligent marketing, efficient logistics, and reach out to a wider target audience. Strategizing with the help of data analytics is on the rise in the sector. Some of the most commonly sought-after data analytics reports that the hospitality sector can include:
Identifying target audience
A hotel needs to identify its target audience and understand the target segment requirements thoroughly. This is where data analytics comes in and examines geographical area, age, income, travel patterns, and purchase behavior. Based on this information, analytics can tell a hotel who its target audience is, what they prefer and how the hotel can gear up for these demands. Not only can the hotel use these insights to cater to future customers, but it can also use them to tweak existing offerings for guests currently staying with the brand.
Scrutinizing daily transactions
Hotels can use reports that analyze daily transactions. This helps brands find patterns in expenditure and income like which are the most profitable days for a business. Such reports are based on data related to check-in and check-out numbers, unpaid check-outs, average room occupancy, and the preferred method of payment. These details can help a business adjust its operations across days to ensure maximum profitability. For example, if a large number of guests ask for airport shuttle services, tying up with a cab service for subsidized rates over the weekend can increase guest satisfaction.
Sales forecasting
A sales forecast is an integral part of a marketing plan for each financial year. This is usually based on consumer data and reports that a marketing department has access to. The application of predictive analytical tools to this data can help forecast the future demand for products and services. Data analytics is also used to ensure the efficient management of finances and resources. The objective of forecasting is to help the hospitality organization anticipate needs and fulfill requirements in the best possible way.
Performance statistics
Hospitality brands, no matter what size, need to have specific indicators in place to help measure performance. Hospitality analytics takes factors like those listed below into consideration:
The number of nights a room is unavailable for booking, occupied, or vacant
The number of canceled reservations
The average occupancy rate
The average duration of stay
The average lead time for bookings
The average revenue per booking
Daily price fluctuations
Such factors help a hospitality brand measure its performance and help build a roadmap to success.
Applications of hospitality analytics
With an understanding of the benefits of hospitality analytics and the various kinds of reports that the sector typically uses, here is a look at the use of data analytics applications in the sector.
Seamless customer experience
A majority of consumers use multiple personal devices to access information. It becomes critical, therefore, that a hospitality brand is accessible on desktops, laptops, mobile phones, tablets, basically anywhere a consumer might browse for travel options. The access and interface have to be smooth across every device as this is a much sought-after feature for hospitality sites. Those that have a simple-to-use multi-platform site that offers to save customer data and possibly their individual preferences, are much more likely to have customers return the next time they want to make a booking. Creating such seamless customer experiences across platforms is essential for a modern day hospitality brand.
Data consolidation
For the average traveler today, there are several options to make a booking, such as aggregator sites, direct bookings, or travel agents. A hospitality brand has to ensure that regardless of how reservations were made, all the details required from a customer must reflect to ensure they have a pleasant stay. Collecting reservation data from each of the sources that a brand works with helps in creating a strong dataset for analytics. With reservation data, a brand can ascertain how customers find a hotel in their search, what they look for in a hotel, see trends in booking, and determine how bookings may be increased.
Targeted marketing
No two travelers are the same. Their needs are different and therefore a one-size-fits-all approach to services and products offered will fall flat for marketers in the hospitality sector. Non-customized travel options are often wasted on a large segment of travelers who are always looking for something unique. Some great offers can often be lost in the noise of promotional emails.
Customer analytics can help customize options for every consumer, offering them exactly what they may be interested in and thus increasing the chances of a reservation. Such analytics solutions are not necessarily restricted to email lists but can also be targeted at customer visiting sites. Tracking customers demographically can also help create targeted marketing campaigns. Additionally, time-optimized alerts can be sent proactively to guests for relevant offers during their stay to further augment their experience and increase loyalty.
Predictive analytics
Predictive analytics is a great technology for a dynamic industry like hospitality. While the average report may may offer a snapshot of performance, predictive analytics can take historical data into account and suggest the most likely next-best action based on patterns in customer preferences. With this application, various approaches can be tested to see which one resonates the best with consumers to scale the development of a new program. Investing in strong predictive analytics can save a business both time and money.
Consistent customer experience
A sure-fire way to enjoy customer loyalty is to have a consistent experience across all properties of a brand. For this, the sharing of customer data across brands is necessary. If a hotel finds that a guest has a specific set of preferences, sharing that information with other related brands is a great way to give a guest a personalized experience. Customers are more likely to come back for highly personalized, customized offerings.
These are just some ways in which data analytics can help a hospitality brand improve its business offerings. Brands are increasingly understanding how quantitative data can be utilized to arrive at better insights to power decision-making. Analytics can play a critical role, no matter if the focus is on lead conversions, customer retention, strategic marketing, or any other aspect of hospitality. The competitive edge offered is unparalleled. With deeper consumer insights, a brand can improve guest satisfaction and loyalty which is the key to ensuring a strong position in the hospitality sector.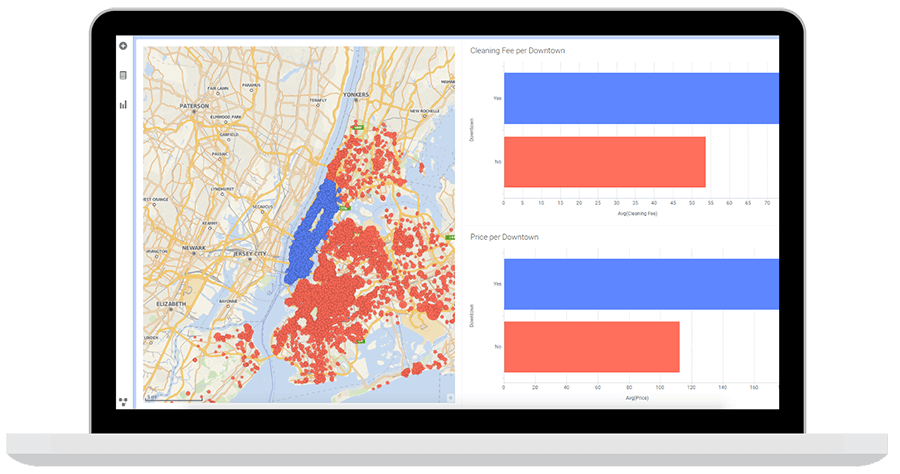 Ready for immersive, real-time insights for everyone?