What is data analytics?
Data analytics enables organizations to analyze all their data (real-time, historical, unstructured, structured, qualitative) to identify patterns and generate insights to inform and, in some cases, automate decisions, connecting intelligence and action. Today's best solutions support the end-to-end analytical process from accessing, preparing, and analyzing data to operationalizing analytics and monitoring results.
Data analytics allows organizations to digitally transform their business and culture, becoming more innovative and forward-thinking in their decision-making. Going beyond traditional KPI monitoring and reporting to finding hidden patterns in data, algorithm-driven organizations are the new innovators and business leaders.
By shifting the paradigm beyond data to connect insights with action, companies are able to create personalized customer experiences, build connected digital products, optimize operations, and increase employee productivity.
With collaborative data analytics, companies empower everyone to contribute to business success—from data engineers and data scientists, to developers and business analysts, and even business professionals and business leaders. Collaborative data analytics also encourages those both inside and outside an organization to connect and collaborate. For instance, data scientists can work closely with a customer to help them solve their problems in real time using the highly collaborative UI of today's modern analytics.
Data analytics propels companies forward by infusing algorithms everywhere to optimize critical business moments such as a customer walking into your store, a piece of equipment about to fail, or other events that might mean the difference between winning or losing business. Data analytics applies to all industries including Financial Services and Insurance, Manufacturing, Energy, Transportation, Travel and Logistics, Healthcare, and others. Data analytics can help predict and handle disruptions, optimize routes, deliver proactive customer service, make smart cross-sell offers, predict impending equipment failure, manage inventory in real time, optimize pricing, and prevent fraud.
Essential data analytics capabilities
Business intelligence and reporting
Analyzing data and providing actionable information to business leaders and other end-users so they can make informed business decisions is one of the largest uses of data analytics. Also known as "Business Intelligence," data analytics is the information portal to any business. Consumers, developers, data modelers, data quality managers, business executives, operations managers, and others rely on reports and dashboards that can help monitor business progress, status, outages, revenue, partners, and more.
Data wrangling/data preparation
A good data analytics solution includes a viable self-service data wrangling and data preparation capabilities to that data can be easily and quickly brought together from a variety of data sources that may be incomplete, complex, or messy, and cleaned for easy mashup and analysis.
Data visualization
To glean insights from the data, many analysts and data scientists rely on data visualization, or the graphical representation of data, to help people visually explore and identify patterns and outliers in the data. A great data analytics solution will include data visualization capabilities, making data exploration easier and faster.
Geospatial and location analytics
Analyzing large datasets often means nothing if your analytics solution doesn't include geospatial and location analytics. Adding this layer of intelligence to data analytics enables you to develop insights and spot relationships in the data that you might not have seen before. You can better predict where your most valuable customers are and the path they take to purchasing your products.
Predictive analytics
One of the biggest uses of business data analytics today is predicting events; For instance, predicting when a machine will fail or how much inventory is needed at a particular store at a particular time. Predictive analytics involves taking historical data and creating a model of it to help predict future events. Traditionally, advanced analytics has been the domain of highly trained data scientists, statisticians, and data engineers. But with advancements in software, aspects of these roles are increasingly being performed by citizen data scientists. Many analyst firms predict that citizen data scientists will surpass data scientists in the amount of advanced analytics produced.
Machine learning
Machine Learning involves the automation of analytical models using algorithms that iteratively learn from data and optimize performance. With available machine learning algorithms for big data, you can put your computers to work finding new patterns and insights without explicitly programming them where to look. Look for data analytics solutions that offer natural language search, image analytics, and augmented analytics.
Streaming analytics
Acting on real-time events in the moment that matters is becoming a critical capability of data analytics today. Pulling data from IoT streaming devices, video sources, audio sources, and social media platforms all in real time is an essential capability of today's top analytics solutions.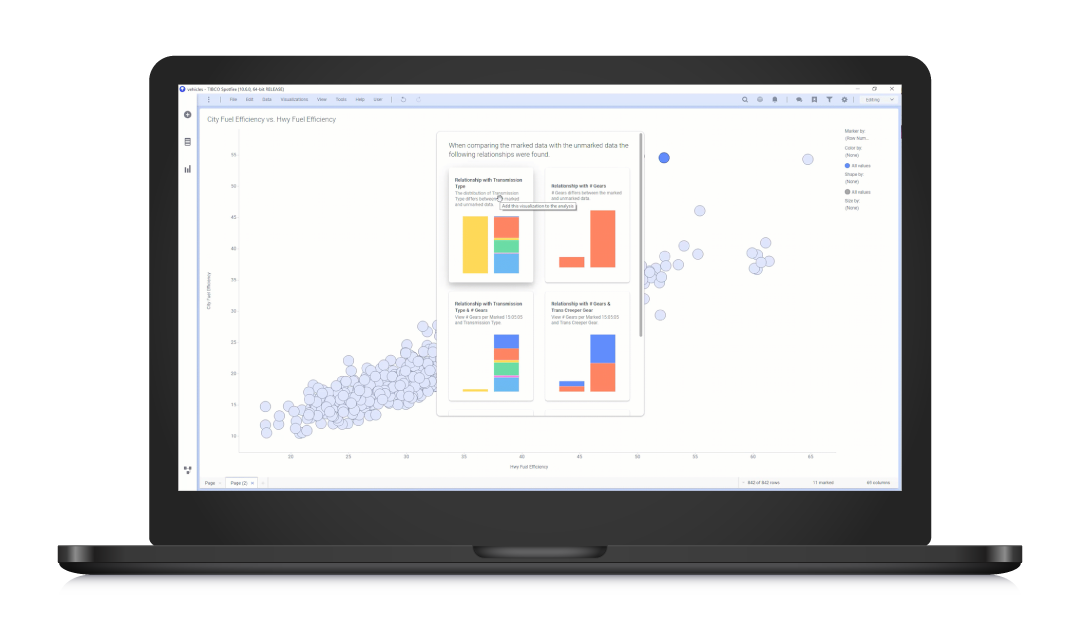 How to use data analytics: The analytical process
Understand the business problem.
Collect/identify data relevant to the problem.
Prep the data for analysis.
Analyze the data to generate insights.
Deploy/operationalize analytics and models.
Monitor and optimize performance.
The first step to generating insights from your data is ensuring that it is organized, accurate, and actionable. Many companies start by creating a standard way to access and integrate data across disparate sources using a virtual data layer. Next, after automating data wrangling, companies can focus time and energy on acting on data outliers or inconsistencies. Next, visual analytics can provide rich, interactive dashboards for data exploration, giving companies powerful analytic capabilities in an intuitive format. Many organizations use data science to create models to provide predictive insights. Additionally, data analytics solutions now continually pull real-time streaming data for the most accurate analysis. With fresh insights, organizations can act fast, making urgent decisions simple with a clear understanding of both real-time and historic data.
Today, organizations can use data analytics to inspect, cleanse, transform, and model their data. The top data analytics solutions do it all for you, allowing you to get the most out of your data and improve business strategies.
The benefits of data analytics
Simplify, collaborate, and do more
Today's top data analytics solutions simplify what used to be a very complex process. Simplifying the end-to-end analytics lifecycle within big data ecosystems like Spark and Hadoop allows you to use data science techniques at scale. Collaborating across data science, line of business, and IT teams on big data analytics projects increases efficiency and productivity for the entire organization.
Find anomalies and take action
Analyzing high-volume streaming data both within your core business systems and at the edge allows you to find anomalies, make decisions, and take action at the point of impact. With ever-increasing volumes of data, being able to analyze, filter, summarize, and gain insight in real time allows you to find anomalies before they become a larger problem.
Operationalize, monitor, manage, and trust
Many organizations struggle to operationalize analytics. As data drifts and models decay, being able to retain, refresh, and automatically deploy new analytic models at the edge, or directly within core business systems, lets you understand and act on trustworthy results.
Connect intelligence to action
With full visibility into all data anywhere, your organization can make the best decisions based on real-time, actionable insights and intelligence. Improve business outcomes by infusing analytics into the business and automating decisions. Learn more, refine, and build intelligence with a closed loop solution featuring built-in, continuous feedback.
Respond fast and correctly
Respond to events in a fraction of a second and ensure the right people take the right actions at the right time to get issues corrected quickly. Employ microservices for edge scoring and modern serverless applications with a tiny footprint based on open source technology.
The impact of data analytics
Data analytics, when harnessed correctly, can be a source of competitive advantage. Organizations that approach data analytics with a focused vision can drive digital transformation, improve customer experience, and create a data-driven company culture. Using data analytics, organizations can identify new business opportunities and use insights to prioritize actions and create new sources of revenue
To capitalize on the value data analytics can provide to an organization, companies must consider data for every business decision as a way to optimize outcomes and drive more informed decision-making.
As data analytics initiatives become more accepted, organizations will move from traditional reporting to more advanced real-time analytics solutions. Data analytics programs within companies are evolving rapidly as digital transformation and data-driven organizations are becoming more of a priority.
Top use cases for data analytics
Detecting anomalies
Managing customer data
Managing risk
Detecting fraud
Personalizing and customizing
Performing market research
Analyzing operations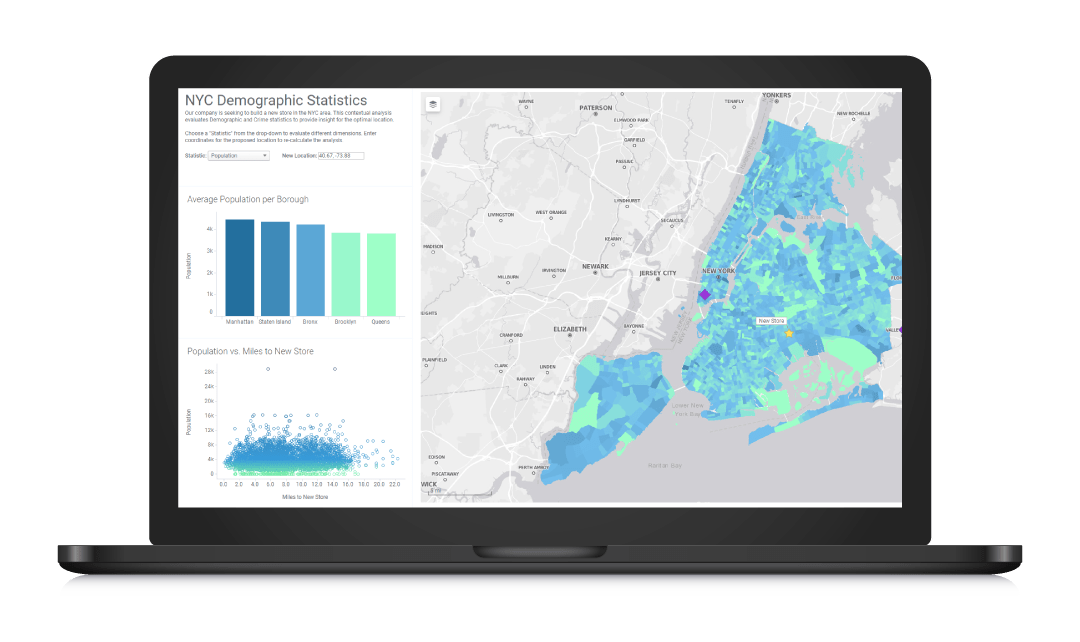 Ready for immersive, real-time insights for everyone?