Advanced analytics for transportation and delivery organizations
Whether shipping products around the globe or getting passengers where they need to go on time, you can use Spotfire analytics to gain instant insights into your resources, terminals, and customer information. Don't let unexpected surprises cause disruption. With Spotfire predictive analytics, you can forecast demand, anticipate maintenance issues, and stay ahead of market trends.
Streamline operations and enhance customer satisfaction with Spotfire

Increase operational excellence
With predictive maintenance capabilities, your organization can eliminate downtime of major assets like trains, trucks, planes, and terminals. Use Spotfire to track anomalies and safeguard against unplanned maintenance issues—for an always-on customer experience.
Deliver the best customer experience
Sense, stream, and map crowd flow through terminals and evaluate your security, transportation, or retail services. Understand and plan for crowd fluctuations during the day and throughout the year. Analyze market trends to understand travel needs and adapt to changing tastes to increase revenue and improve services.
Minimize supply chain disruption
Use capabilities like demand forecasting and route optimization to predict supply chain constraints and demands. Spotfire visual analytics makes advanced, predictive analytics easy and accessible right from the user interface.
Autostrade per l'Italia creates safer roads with highway analytics
97.5% accuracy in estimating traffic backups
Spotfire visual analytic dashboards replace manual traffic tracking and the need to draw volume charts on paper, which took roughly 12 to 18 hours, and now takes mere seconds.
Explore Spotfire logistics and transportation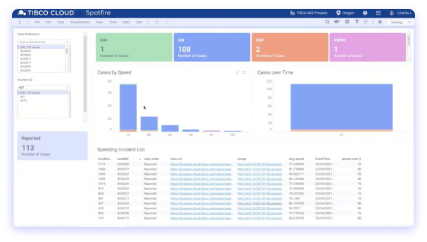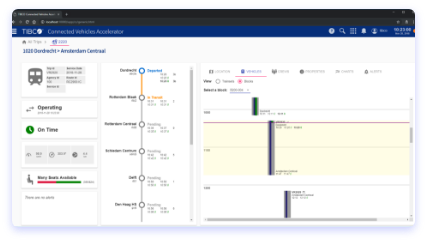 Vehicle Loading and Delivery Logistics

In this demo featuring two different fit-for-purpose Spotfire Mods visualizations, monitor the real-time unloading of cargo from a delivery truck while recalculating route optimization.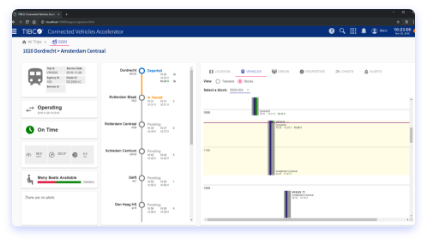 Delivery Routes in the Bay Area

Select distribution centers and remote delivery points. Spotfire will automatically calculate optimized driving routes between the two.
Learn how Spotfire empowers leading companies

Ready for advanced solutions for your industry?