What is mobile analytics?
Mobile analytics solutions deal with metrics specific to mobile websites and applications, analyzing visitor behavior in terms of engagement, conversion, and retention. This style of analytics looks at mobile web activity including mobile apps, smartphone data, SMS messaging bots, QR codes, and other interactions on mobile devices. Mobile analytics tells a story about consumer behavior on mobile and how their experiences with mobile apps and websites can be improved to generate greater revenue.
Marketers can use mobile analytics to determine the effectiveness of different campaign efforts on mobile devices. For mobile apps, businesses can look at mobile analytics to gain insight into how users are interacting with different features, efforts that are leading to increased downloads, and other behaviors that may help in decision making around the mobile app development. Mobile analytics can be used to A/B test different app components to gauge consumers' reactions and deliver the best possible experience. Also, mobile analytics can prove very helpful in ensuring the performance of the mobile app itself and responding to any failures or quality issues quickly.
What metrics does mobile analytics look at?
Mobile analytics measures many different metrics to assess consumer behavior and the metrics measured may vary from company to company. Here is just a few of the metrics that mobile analytics often includes:
Downloads
Revenue generation
Engagement metrics
Customer events
In-app purchases
Location and device information
Sessions and views
New and returning users
Countries or other location data
Time spent on page or screen
App crashes or bugs
User retention
Why is mobile analytics important?
The practice of performing mobile analytics is critical to success in an increasingly online world, and it's important to understand how to successfully implement mobile analytics as more and more consumers are using mobile apps. Today, consumers are using mobile apps increasingly to make purchases, do research, and engage with brands they love. Businesses can no longer ignore mobile consumers as the market continues to grow. To ensure success on mobile, organizations must devise a strategy that is informed by mobile analytics to provide fast, personalized user experiences across the customer journey.
Teams from across the business should be using mobile analytics to understand their customers and develop excellent user experiences. Product managers need to understand mobile analytics to make smart decisions about app development. User Interface (UI) and User Experience (UX) designers should use mobile analytics to create user flows that are engaging and react to user preferences. IT and technical teams need mobile analytics to optimize app performance and code an excellent user experience. And marketers should use mobile analytics to target and convert new users, build customer loyalty, reduce churn, and increase customer retention.
Examples of mobile analytics
Leading companies use mobile analytics to improve their business and engage with consumers through their mobile devices. Let's look at a few examples of how mobile analytics can be implemented.
Mobile Advertising Analytics: One area of mobile analytics that has grown significantly in recent years is mobile advertising analytics. As more users adopt mobile, more advertisers and marketers are taking advantage of the space to reach potential customers with advertising on mobile devices. Mobile advertising analytics refers to tracking metrics like click-thru rates, conversion rates, and responses on campaigns to help marketers see a good ROI on digital spend put toward mobile.
Web Analytics: Mobile web analytics, tracking behaviors on mobile and smartphone web browsers, is also used to target and attract new customers. Marketers can analyze page views, bounce rates, click-thru rates, and other interactions with the business' website. This can be used to improve the web experience on mobile devices and increase engagement with consumers online.
Funnel Analysis: As mobile analytics deals heavily with consumer behavior, it can be used to perform funnel analysis. Businesses can then better understand their mobile users and determine the key factors that influence their purchase decisions. With funnel analysis using mobile analytics, companies can analyze multiple potential conversion paths and strategize on how best to engage with users and ensure they advance through the funnel.
The challenges of mobile analytics
Because mobile analytics is a fairly new field of analytics and continues to change with rapidly changing consumer expectations, there are many challenges to be faced in implementing it.
Collecting the data necessary for successful mobile analytics is often the greatest challenge organizations face when attempting to understand consumer behavior on mobile devices. Many devices do not allow for cookies to track actions or do not use Javascript which can also help with website data tracking.
Another challenge to ensuring the usefulness of mobile analytics is correctly segmenting users based on their mobile behavior. Organizations must guarantee quality data and tracking so that all the necessary attributes are correctly captured and never duplicated, including network, device, entry page, time spent on page, etc. It is possible for dirty data from mobile analytics, or even algorithmic bias, to lead to incorrect conclusions. To combat this risk, businesses should put measures in place to eliminate bad data, biases, and opportunities for misrepresentation of the data.
Finally, implementing mobile analytics may require a culture shift if your company is not yet fully data driven. To receive a return on your investment in mobile analytics, make sure to follow best practices for onboarding new technologies and gaining and maintaining buy-in from key stakeholders.
The benefits of mobile analytics
Despite the challenges of mobile analytics, it's essential for modern businesses to invest in and can lead to many opportunities for the business.
Improved UI/UX: Mobile analytics can help businesses develop content and campaigns that best meet their target audience's needs. With metrics on user engagement, designers can ensure a smooth, consistent user experience that is responsive to user behavior.
Optimized Websites and Apps: Mobile analytics is also useful for product managers and app developers. It can be used to optimize the performance of mobile websites and apps and therefore enhance consumers' interactions with your business on mobile devices.
More Customer Loyalty: Every company is always on the lookout for ways to improve customer retention. Mobile analytics can help organizations identify those areas for improvement. User retention on a business' mobile app shows strong brand loyalty and can increase the likelihood of repeat customers once downloaded. It's also a great way to analyze customer feedback and implement changes rapidly for more agile app development.
Analytics Insights: Mobile analytics looks at easy-to-understand metrics and often provides user-friendly dashboards that non-technical users like marketers and product managers can quickly assess and use to improve performance. This can lead to more targeting marketing and accurate segmentation for overall improved business results.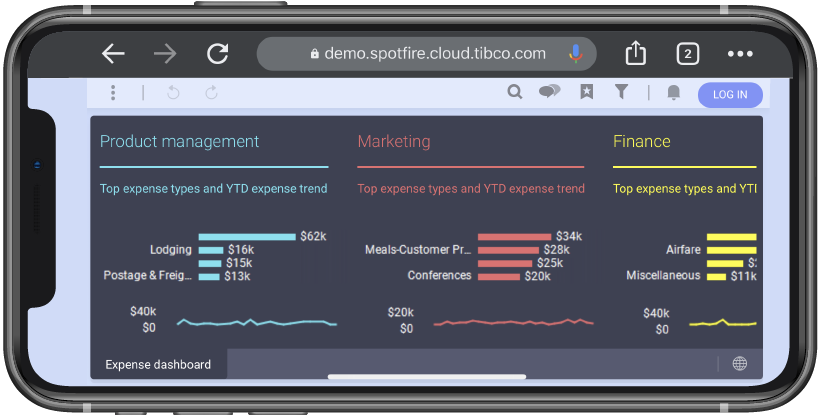 Ready for immersive, real-time insights for everyone?