What is geoanalytics?
Geoanalytics is the use of location-based information in analyses for contextual awareness and different perspectives on the data being investigated. By incorporating geo-location and other spatial details, businesses can gain a broader understanding of their data and uncover new insights.
Geoanalytics layers data to enable comparisons among different locations and identify trends and patterns across cities, regions, and countries. Using geodata such as addresses, zip codes, GPS coordinates, transit lines, and more, providing more layered, complete views of the data, geoanalytics adds a spatial dimension to insights uncovered in the analysis. Almost every business today deals with geographic data. Whether it's used to manage store locations, personalize marketing and sales tactics by region, optimize international operations, react to location-specific trends, improve logistics and transportation of goods, or any other related issue, geoanalytics can help businesses make better decisions. By using analytics methods that leverage geographic data, organizations can understand complex relationships in the data and interpret the data with greater accuracy.
Geoanalytics is important because businesses need to be able to understand consumer behavior and reactions across different locations in order to meet expectations and deliver the products and services people really want. Businesses can use geoanalytics to track engagements on web applications and mobile services and see how different regions or areas interact with the product. Location services can geo-enable business data and help organizations to develop location-based apps and services.
Furthermore, companies can use geoanalytics in data visualizations to paint a clear picture of what is going on and locate trends better than they would be able to do using a spreadsheet. Heat maps and density charts especially can be useful in comprehending geographic distributions of data. Powerful map visualizations and location-based analytics can reveal crucial geospatial information and expose hidden geographic relationships leading to better location-related decisions.
It's not just businesses that benefit from geoanalytics. Governmental agencies, nonprofits, and community service providers all can use geoanalytics to identify communities in need, at-risk populations, and assess gaps in access to care. Also, epidemiologists rely on geoanalytics to help track the spread of illnesses such as COVID-19, and state and local governments rely on geoanalytics to help identify the impact of pollution and toxins that extend beyond the initial incident.
Components of geoanalytics
Since there are many use cases for geoanalytics, organizations can use all of the components listed below, or some combination of them. To gain the full benefits of location analytics or geoanalytics, organizations must go beyond plotting markers on a map. That means investing in a solution that is immersive and allows for automated map creation with instant geocoding, multiple data layers for enriched context around spatial patterns, map services, and GIS data. The following are some important components of geoanalytics.
Interactive Mapping: Organizations can use interactive maps with automatic geodata lookup functions to overlay them with different visualizations. These on-the-fly location lookup capabilities can increase productivity and improve users' understanding of geographic information and its relationships. Interactive mapping removes the need for multiple, separate mapping databases, eliminating overhead and maintenance costs.
Geospatial Insights: Geoanalytics users can gain insight into patterns more quickly than possible with traditional tables and charts. Using immersive visualizations and brushlinking, organizations can analyze geo-spatial relationships and existing data and applications. This helps to better understand the whole story within their data.
Geographic Search: With the capability to look up locations on demand, organizations can automatically populate analyses and update dashboards, maps, and other visualizations with geographic data. Organizations can use geographic search to analyze data by city, county, zip code, geographic coordinates, and more.
Clustering: Geographic density of data points or events in the data can be observed with clustering. This can show groupings of high or low values that may be significant for business decisions, such as where to open a new store.
Formatting and Annotating: Different formatting and annotation tools can help users make sense of the data. By using colors, lines, and shapes, analysts can create views that are easier to understand. For example, color can be used to represent different zip codes, store locations, and other segmentations of customer data to make better-informed decisions.
Layers: Visual mapping can display different views of your data and allow you to analyze multiple data sets on a map with layers. These layers can be set over a basic map with heatmap, chart, bubble, geodata, and other types of layers from internal and external sources.
Target Highlighting: With target highlighting, you can select any layer, lasso selections, or pan and zoom to investigate your analysis further. This feature allows users to investigate combinations of different variables to understand patterns in the data.
By employing these techniques, businesses can leverage geographic data and data functions for powerful location-based analytics and data exploration.
Organizations must be able to instantly recalculate models on the fly using an immersive, interactive, visual application. Some more specific advanced features to look for in a geoanalytics solution include the following map charting capabilities:
Automatic positioning images on maps with the correct location and projection using geo-reference information from GeoTIFFs
Drag and drop image positioning
Geo-spatial distance calculation for streaming data
Auto-zoom feature that allows for pan and zoom
Geoanalytics use cases
Using the different components of geoanalytics capabilities described above, organizations can solve their various location-related problems. Here are just a few use cases to consider:
Self-Service Analytics: Democratize access to geo-related data and mapping tools across the entire organization to improve business processes and decision making
Market Segmentation: Geoanalytics can help marketing and sales refine market segments based on additional geo-related data to better understand current customers and target new customers.
Asset Management: With geoanalytics, companies can monitor equipment, predict areas most vulnerable to outages, and proactively position maintenance teams to those areas.
Risk Management: Risk analysis can also benefit from geoanalytics. Financial services, insurance, and other risk-averse industries can employ geo-related data to assess, for example, the potential impact of natural disasters in different areas in order to adjust pricing accordingly. This can also help with proactive claims management.
Industry examples of geoanalytics
Across various industries, geoanalytics is helping organizations learn more about their data and develop geo-enabled solutions. The following are some key industry applications:
Retail and Ecommerce: Geospatial analyses and visual mapping helps retailers break down store sales performance by region and compare results to competitors in the same areas. It can also help track customer behaviors and purchasing patterns to uncover opportunities for improvement. Geoanalytics also enables retailers to predict the best time and location for sales and assess the potential of different locations for a new store.
Logistics and Transportation: Geoanalytics is also incredibly useful for transportation and logistics. The combination of customer shipment data with external geo-related data allows transportation providers to predict potential shipping delays, address logistic issues before they occur, and therefore improve customer satisfaction.
Banking and Financial Services: Banks can use geoanalytics to uncover new insights on customer behavior and competitor locations. This data can be used to decrease customer churn and optimize branch locations for customer engagement.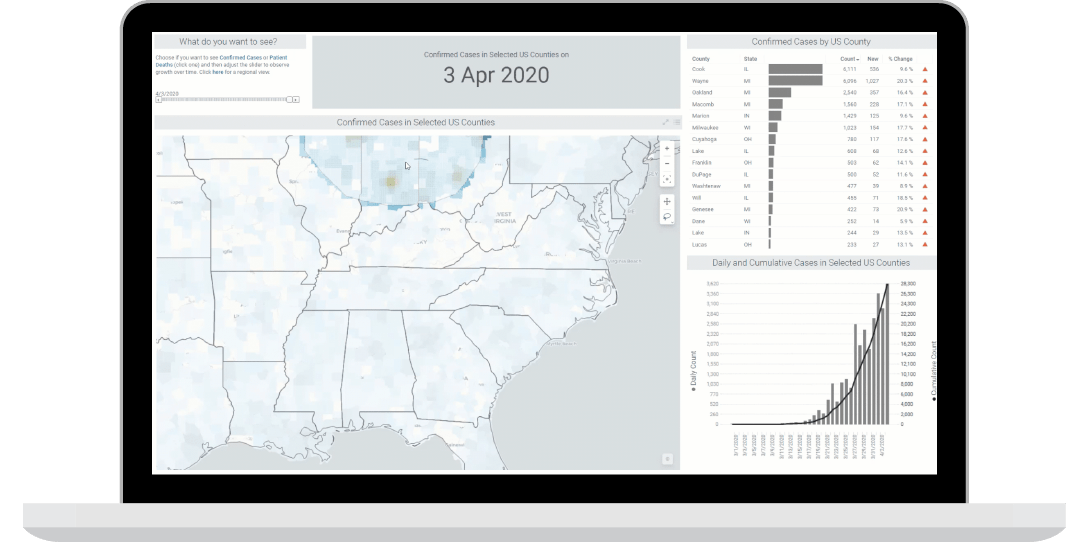 Ready for immersive, real-time insights for everyone?